Round 4 Report
2016-07-21
The games of round four of Lake Sevan 2016 tournament were played yesterday. In the central game of the day Jan-Krzysztof Duda faced Vladislav Artemiev. The game turned out to be very interesting and dramatic. In the middle of the game Duda had a big advantage but he exchanged the queens wrongly, which was in favor of Artemiev. The game transposed into an ending where Duda had a very little advantage and Artemiev was supposed to hold the position. But in a very long and tense game Artemiev made a mistake and on move 99 Russian Grandmaster resigned. The other leader of the tournament Samvel Ter-Sahakyan was playing against Hovhannes Gabuzyan. The opponents played in a sharp manner and in complicated calculations Ter-Sahakyan outplayed his opponent and celebrated the second victory.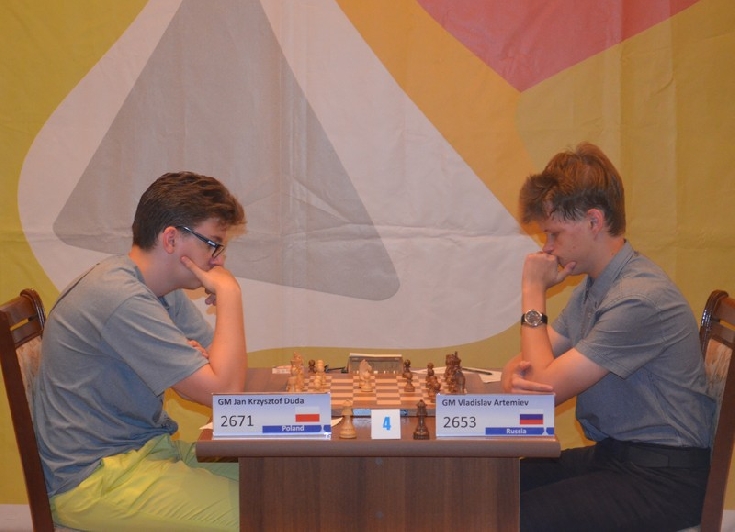 Samuel Sevian won his game against Vladimir Onishchuk. On move 11 Sevian sacrificed his knight and got a very dangerous attack. Onishchuk made several mistakes while defending and soon resigned. The other two pairs of the day were David Anton Guijarro- Robert Hovhannisyan and Vidit Santosh Gujrathi- Arman Pashikian. Both games ended in a draw.
After the fourth round Samvel Ter-Sahakyan and Duda Jan Krzysztof are leading the table with 3 points.
Useful links

chess-results.com

Weather in Martuni
Organizers